Sharing in Worship
We offer a range of worship styles and opportunities to share in prayer and worship. You will find different styles, different times, and different days. In our more formal services we draw on the traditions of the United Reformed Church and the Methodist Church.
All these acts of worship have one thing at heart, however: an honest attempt to understand what it means to respond to Jesus' command to 'Follow me'.
Lent times of Worship and Exhibition by Mary Flitcroft
On a Sunday, a good number of people gather to share in morning worship at 10.30am. This service is often fairly traditional in format (but not over-formal), with challenging, relevant teaching and a mixture of styles of music.
Sunday morning worship lasts about an hour and is followed by refreshments. The theme of the service is always made clear at the beginning; it will often be based on the lectionary readings, or arise out of a particular series of themed services. Whilst the tone is usually calm and ordered, ample opportunity is provided for full congregational involvement and participation. There is usually a printed order of service, which is available to see here.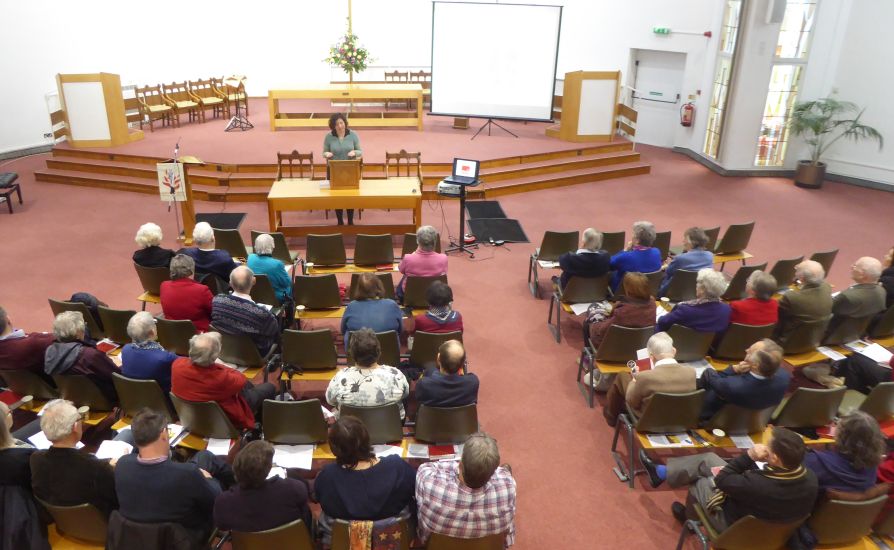 The quality of teaching is important and the role of music is taken seriously: congregational singing is vigorous – the books in most regular use are the Methodist 'Singing the Faith', the URC 'Rejoice and Sing', and 'Common Ground' – and the music is complemented by the choir and the singing group. Whilst this service is recognisably traditional in format, great care is taken to ensure that it is accessible to visitors and that all feel welcomed and valued.
Communion is usually celebrated on the first Sunday of each month.   The church has an 'open table' for communion; you do not need to be a church member.  Bread is always gluten free and wine in small cups is non-alcoholic.  Occasionally there is also the option of alcoholic wine in the common cup.
At the present time, Junior Church comprises just a group for young children.   It is offered on most Sundays except on the fourth Sunday in each month when worship is informal and does not include a sermon.    There is a children's area available every week in the church room.