The Reverend Dr Neil Johnson 
Neil Johnson is Methodist Minister of The Church at Carrs Lane. His previous appointments were in West Cumbria, Chelmsley Wood and at the Birmingham Methodist Central Mission.
Neil is also one of three Superintendent Ministers of the Birmingham Methodist Circuit. In this role his brief is Service & Evangelism, which covers support and development of mission through chaplaincies, community projects and other outreach work.
In addition, Neil chairs the Birmingham Christian Homeless Forum, as well as the Retail Chaplaincy Management Committee. He serves as a trustee of Hope Housing, which offers accommodation to asylum seekers. He has oversight of the Birmingham Methodist Circuit's Ministry to Education Group, the work of the Youth Minister, the annual World Church Event, and the Circuit review process.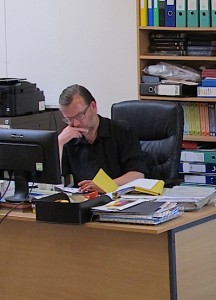 Revd Cristina Cipriani 
Cristina Cipriani is United Reformed Church minister at Carrs Lane.  She was born in Bari, Italy, in a religiously mixed family. Her mother is Protestant and her father is Catholic.  She studied Theology at the Waldensian University in Rome, then moved to Germany where she did training in Clinical Pastoral Education and worked as a Hospital Chaplain in an interdenominational team.
Cristina moved to Cambridge in 2011. Four years later she started a Master's degree. She did her final placement in Liverpool and is now in her first pastorate in Birmingham, sharing in team ministry at The Church at Carrs Lane and as minister to Digbeth-in-the-Field United Reformed Church.
Cristina's interests are interfaith dialogue, the connections between psychology and theology and how the church can be a place where everybody is welcomed and feels safe. Her hobbies are foreign languages, cooking, walking, watching musicals and movies.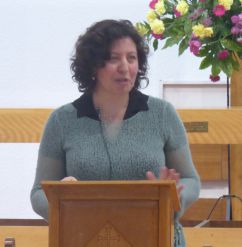 Deacon Ruth Yorke
Ruth Yorke is a Methodist Minister with The Church at Carrs Lane. She has previously worked with people on housing estates in High Wycombe and Basingstoke.
She joined our team to work with the church in developing its service amongst vulnerable people in the city, and she is excited to be amongst so many people who are passionate about serving others.
Ruth has many interests, including interfaith working and ensuring that we work towards making churches places of inclusion and safety for everyone. She has been involved in the early stages of the development of 'positive working together', a Methodist Church approach to working well together in church life in the midst of our varying personalities, backgrounds and experiences.
Elders
The church's leadership team is called the Eldership. With the ministers, elders are trustees with responsibility for the Local Ecumenical Project. There are ten elders who are responsible for ensuring the fulfilment of the agreed guiding principles. They also have pastoral oversight of the whole life of the church.
Church members are called by fellow church members to serve on the Eldership. This happens through a process of nomination and authorisation by the Church Meeting. The period of service is three years, but with the possibility of immediate re-election for one further period of up to three years. On completion of their period of service, retiring elders are not eligible for re-election for one year. Their Call is recognised through promise-making and commissioning in worship.
Serving Elders (2020)
Liz Cummings, Diana Cullum-Hall, Derek Duffield, Julie Grove, Matthew Neville, Jan Scott, Martin Stokes, Andrew Veitch, Peter Woodall and Chris Yorke.
The Elders' Meeting recommends to Church Meeting the appointment of honorary officers as appropriate. Currently the Church officers are: Church Secretary: Julie Grove; Church Treasurer: Peter Woodall. These are currently all serving Elders, but even if they were not, they would be co-opted members of the Elders' Meeting by their office.
In addition, the Elders' Meeting has established committees with appropriate delegated authority which include:
Finance Committee
Worship Consultation
Mission Group
Publicity Group
Pastoral Visitors Network