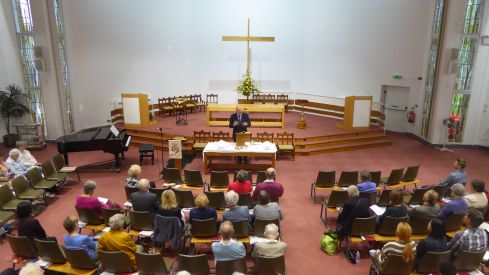 'May we who are merely inconvenienced remember those whose lives are at stake.
May we who have not risk factors remember the most vulnerable.
May we who have the luxury of working from home remember those who must choose between preserving their health or making their rent.
May we who have the flexibility to care for our children when their schools close remember those who have no options.
May we who have to cancel our trips remember those that have no safe space to go.
May we who are losing our margin money in the turmoil of economic market remember those who have not margin at all.
May we who settle in for a quarantine at home remember those who have no home.
As fear grips our country let us choose love.
During this time when we cannot physically wrap our arms around each other, let us yet find ways to be the loving embrace of God to our Neighbours. Amen'  
Sunday Worship online
Whilst churches are not meeting there are a number of options for you to connect with worship this coming Sunday morning.
Birmingham Methodist District Live Sunday Worship
Our Methodist District will be streaming worship live this coming Sunday on their Facebook Page. Click on the above link on Sunday morning (22nd March) just before 10:30am to join them. You do not need a Facebook account to watch it.
Wesley's Chapel Live
Wesley's Chapel in London will also be streaming live each Sunday morning on YouTube, only at 11am, click on the link above at that time to join in. Again, no account required.
Radio and TV (please remind friends who are not on the Internet about these TV and radio programmes)
We shall also post news in our News section.
Click to download the Carrs Lane Lent Eco Challenge flier.
MARCH 2020
Sun 1st March, 10.30am: Service of Holy Communion, with Revd Cristina Cipriani. Lent theme: Temptation and Power. Download the order of service
Sun 8th March, 10.30am, Morning Worship, with Revd Dr Neil Johnson. Lent theme: Forgiveness and Growth. Download the order of service
Sun 15th March, 10.30am, Morning Worship, with Revd Cristina Cipriani, Lent theme: Self-denial. Download the order of service
Sun 22nd March, 10.30am, Morning Worship, with Revd Dr Neil Johnson and Deacon Ruth Yorke. Lent theme: Love, appreciation and safe space. Download the order of service
Sun 29th March, 10.30am, Morning Worship, with Helen Woodall
FEBRUARY 2020
JANUARY 2020