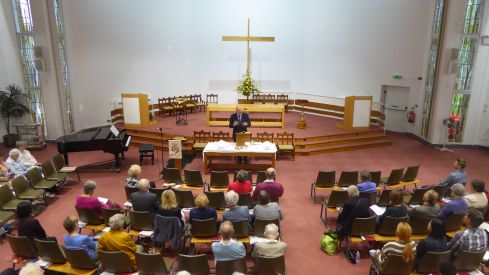 The Church at Carrs Lane is open for worship and room hire.
We meet in person on the premises and also worship online with those in church via zoom at 10:30 on Sundays. The service is live streamed on Facebook/carrslanelife
You can usually follow daily prayer live online from Monday to Friday at 8.30am with the Carrs Lane Lived Community. They are currently taking a summer break. Go to the Carrs Lane Lived Community Facebook Page
Find us on Facebook for updates and messages and to message us prayer requests. Go the Church at Carrs Lane Facebook Page
See below for more information about other opportunities for Sunday Worship online.
See videos on our Facebook page (link above) or on our YouTube channel. Go to our YouTube Channel
'Jesus said:

Peace I leave with you; my peace I give to you.
I do not give to you as the world gives.
Do not let your hearts be troubled,
and do not let them be afraid. – John 14 verse 27'
Read the Statement from the United Reformed Church and the Methodist Church
Read the Pastoral Letters from the United Reformed Church and the Methodist Church
We share this prayer from Red Letter Christians UK:
'May we who are merely inconvenienced remember those whose lives are at stake.
May we who have not risk factors remember the most vulnerable.
May we who have the luxury of working from home remember those who must choose between preserving their health or making their rent.
May we who have the flexibility to care for our children when their schools close remember those who have no options.
May we who have to cancel our trips remember those that have no safe space to go.
May we who are losing our margin money in the turmoil of economic market remember those who have not margin at all.
May we who settle in for a quarantine at home remember those who have no home.
As fear grips our country let us choose love.
During this time when we cannot physically wrap our arms around each other, let us yet find ways to be the loving embrace of God to our Neighbours. Amen'  
Sunday Worship online
Whilst churches are not meeting, or you do not wish to attend if they are, there are options for you to connect with worship on Sunday mornings.
Birmingham Methodist District Live Sunday Worship
Some weeks, our Methodist District will be streaming worship live on their Facebook Page and YouTube channel. Click on the above link on Sunday morning just before 10:30am to join them or find out which days they are including. You do not need a Facebook account to watch it.
Wesley's Chapel Live
Wesley's Chapel in London will also be streaming live on YouTube
Radio and TV (please remind friends who are not on the Internet about these TV and radio programmes)
We shall also post news in our News section.