Journey with the Church at Carrs Lane
Journey is the magazine of The Church at Carrs Lane, published four times a year.
We hold an archive of past copies if you are interested in a previous issue. Issues since 2016 are available electronically as a PDF file. In addition, we have an archive of 'The Carrs Lane Manual' if you are interested in the history of the Church at Carrs Lane. Please contact clerk@carrslane.co.uk if you want to access these resources.
The Winter issue is on the theme Waiting, Accepting, Journeying: A time of waiting and isolation yet together across distance
Winter Issue: Waiting, Accepting, Journeying
Download the PDF of Journey (Winter 2020)
Read Journey as an online magazine
Autumn Issue: We hold on to Hope
Read Journey as an online magazine
Summer 2020: Covid 19
The Summer issue was on the theme 'We hold on to Hope' and focused on living in a time of Covid-19. Different people shared their experiences of challenge and discovering new things.
Spring 2020: Lent
The Spring issue was on the theme of Lent, with articles on Working Positively Together, Reflections on Lent; The Church's Golden Anniversary in its new building, Lent activities, the Eco Lent Challenge, Christian Aid, Fair Trade and Events. Download the Spring 2020 issue.
Winter 2019-2020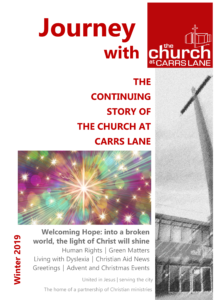 The Winter issue, on the theme "Welcoming Hope", touched on human rights, the work of Christian Aid and 'Green Matters'. The issue includes reports about the Carrs Lane Lectures, our exchange with a choir in Germany, and the annual walking weekend. Learn also about one person's life with dyslexia, another's tussle with the carol 'Away in a Manger', and a poet's reflection on letting life get a word in edgewise. Details about Christmas music and carol concerts, as well as our services in Advent and at Christmas, are also included.
Autumn 2019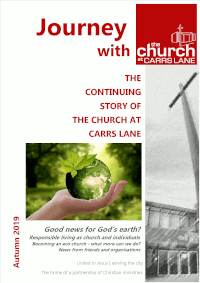 The theme of the Autumn issue (September-November) is "Good news for God's earth?" We look at responsible living both as church and individuals. Different people tell how they became concerned about more sustainable ways of living and how they are trying to become better stewards of the earth's resources. We catch up with Traidcraft (Fair Trade), Tabor House, Commitment for Life and provide useful tips and hints for recycling your household waste.
Summer 2019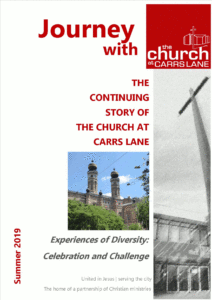 The theme of the Summer issue highlights that we meet diversity in many ways.  We hope that you will enjoy reading about different people's "Experiences of Diversity". In her pastoral letter, Deacon Ruth Yorke introduces how these experiences and knowledge of others' situations can be a cause for celebration or challenge.