Menu
Choose from our selection of cold buffet menus designed to suit all budgets. Dietary requirements are not an issue, and we can cater for all these needs (advance notice is required).
To find out more, please call us on 0121 643 6151 to speak to one of our booking team who will be happy to help you with your food order, alternatively, you can email booking@carrslane.co.uk.
Opening Times: 9am and 5pm, Monday to Friday.
Prices are quoted per person per serving, unless otherwise stated.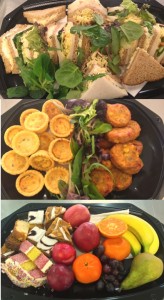 Menu
Price
Hot drinks
Tea, coffee and a selection of herbal and fruit teas. All fairtrade.

£1.45
Hot drinks with biscuits
Tea, coffee and a selection of herbal and fruit teas with biscuits.

£2.00
Selection of Danish Pastries
£3.50
Breakfast Bap
Sausage or Bacon Bap (vegetarian option available)
£2.95
add an egg to your breakfast bap
£0.70
Cold drinks
Fruit juice

£1.45
B1 – Light Buffet
Selection of sandwiches with crisps, cakes/fruit

£7.00
B2 – Extra Value Buffet
Selection of sandwiches with crisps, 2 savoury items and cakes/fruit

£7.60
B3 – Full Buffet
Selection of sandwiches with crisps, 4 savoury items and cakes/fruit

£8.90
B4 – Deluxe Buffet
Continental meat platter, fish platter, crudity platter, bread basket, crisps, 3 savoury items, cakes, fruit and cheese board

£12
Salad Selection
includes: green salad, coleslaw, pasta salad, and couscous salad.
(can only be ordered with one of the buffet options)
£1.50
All menus include fruit juices (hot drinks must be ordered separately)

All buffets will be mixed baguettes, wraps and sandwiches unless stated when booking

Refreshments in Dale Lounge and Wiseman Room
Refillable self service hot and cold drinks and biscuits

£3.25
Bringing your own?
A cover charge may apply for bringing your own sandwiches or snacks

£1.25