We try to make your time at Carrs Lane as convenient as possible for you and your party, so we offer a high quality selection of buffets and refreshments.  Special dietary requirements can be catered for by prior arrangement.  Our professional and dedicated team will be happy to discuss your requirements.   To find out more, please speak to them on (0121) 643 6151 between 9am and 5pm, Monday to Friday, or complete the enquiry form. Alternatively, you can email booking@carrslane.co.uk.
If you wish to use your own catering, including snacks, there is a cover charge per person (see price list), to cover the extra caretaking costs.
Please note: The main foyer, or any room not hired, must not be used as an eating area.
Prices are quoted per person per serving, unless otherwise stated.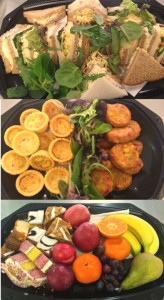 Menu
Price
Hot drinks
Tea, coffee and a selection of herbal and fruit teas. All fairtrade.

£1.45
Hot drinks with biscuits
Tea, coffee and a selection of herbal and fruit teas with biscuits.

£1.70
Cold drinks
Fruit juice

£1.45
Cold drinks with biscuits
Fruit juice with biscuits

£1.70
M1 – Sandwich Buffet
Selection of sandwiches with fine salad leaves
£5.50
M2 – Light Buffet
Selection of sandwiches with crisps, cakes/fruit

£7.00
M6 – Extra Value Buffet
Selection of sandwiches with crisps, 2 savoury items and cakes/fruit

£7.60
M3 – Standard Buffet
Selection of sandwiches with crisps, 3 savoury items and cakes/fruit

£8.55
M4 – Full Buffet
Selection of sandwiches with crisps, 4 savoury items and cakes/fruit

£9.50
M5 – Deluxe Buffet
Sandwiches, baguettes, wraps, crisps, 5 savoury items, cakes/fruit and cheese board

£10.70
All menus include fruit juices (hot drinks must be ordered separately)

We also offer a range of Hot Meals subject to a minimum order of 100 buffets.

Refreshments in Dale Lounge and Wiseman Room
Refillable self service hot and cold drinks and biscuits

£2.95
Bringing your own?
A cover charge may apply for bringing your own sandwiches or snacks

£1.25